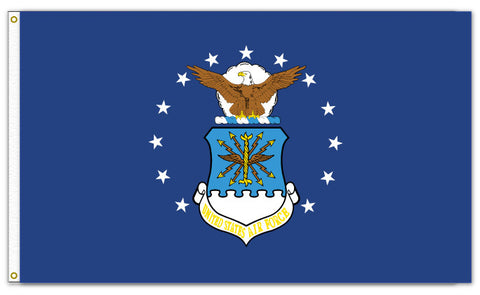 US Air Force Nylon Flag (Various Sizes), Heavy Duty
Description:
The US Air Force Nylon Flag has a sturdy white header tape and 2 metal grommets
Made of 100% Heavy Weight 200 Denier Nylon Bunting

Double-stitched around all edges with 4 rows of stitching on fly edge

Aniline-dyed all the way through the fabric for brilliant colors

Treated to Resist Fading

Fast Drying 

Made in the USA
We have made every effort to make the colors on screen as close as possible to the colors of the products you purchase. However, we cannot guarantee an exact match in colors, and the images and information on this website should not be relied on as such. The representation of colors are limited by technology and may vary due to screen and printer settings.
Other fine products