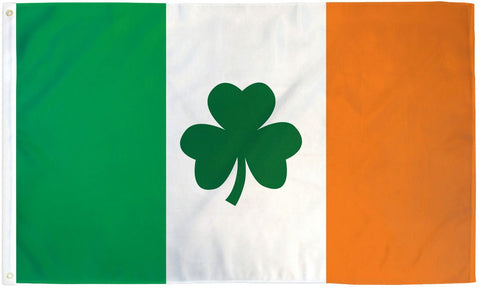 Flag of Ireland with Clover, 3x5
Description:
Our Ireland Flag is double-sided. Heavy duty grommets are sewn in for easy hanging. 
PREMIUM QUALITY - 100% heavyweight 200-denier nylon is used to ensure your flag lives as long as possible

EXPERT CRAFTSMANSHIP - Made with the highest quality material yielding the most vibrant of colors

EXTREMELY DURABLE – The fly end is double stitched which prevents premature material breakdown and fraying

WEATHER RESISTANT – Treated to resist UV rays and chemical deterioration
We have made every effort to make the colors on screen as close as possible to the colors of the products you purchase. However, we cannot guarantee an exact match in colors, and the images and information on this website should not be relied on as such. The representation of colors are limited by technology and may vary due to screen and printer settings.