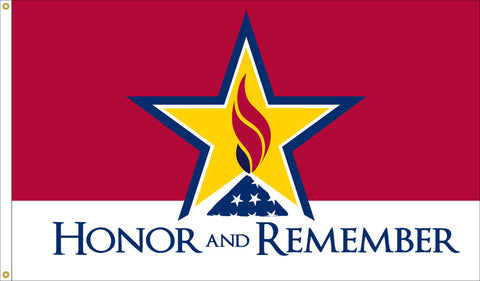 Honor and Remember Nylon Flag 3x5
Description:
The Honor and Remember Nylon Flag has a sturdy white header tape and 2 metal grommets
Made of 100% Heavy Weight 200 Denier Nylon Bunting

Double-stitched around all edges with 4 rows of stitching on fly edge

Aniline-dyed all the way through the fabric for brilliant colors

Treated to Resist Fading

Fast Drying 

Made in the USA
So, what is the significance of this flag?
The Red Field represents the blood spilled by brave men and women in America's military throughout our history, who willingly gave their lives so that we all would remain free.
The Blue Star represents active service in military conflict. This symbol originated with World War I, but on this flag it signifies service through all generations from the American Revolution to present day. 
The White Border beneath and surrounding the gold star recognizes the purity of sacrifice. There is no greater price an American can pay than to give his or her life in service to our country. 
The Gold Star signifies the ultimate sacrifice of a warrior in active service who will not return home. Gold reflects the value of the life that was given. 
The Folded Flag signifies the final tribute to an individual life that a family sacrificed and gave to the nation. 
The Flame is an eternal reminder of the spirit that has departed this life yet burns on in the memory of all who knew and loved the fallen hero.
We have made every effort to make the colors on screen as close as possible to the colors of the products you purchase. However, we cannot guarantee an exact match in colors, and the images and information on this website should not be relied on as such. The representation of colors are limited by technology and may vary due to screen and printer settings.