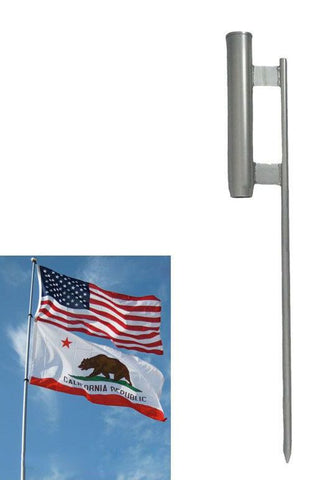 Ground Spike for Telescoping Flag Poles (Various Sizes)
Description:
The aluminum ground spike has a 20-inch stake giving your flagpole ultimate stability. Total length is 31 inches (19 inches below ground and 12-inch pole holder above ground).
We recommend the use of this product with our 16, 20, 24 or 28-foot fiberglass telescoping flag poles.
Diameters vary per pole
16ft= 1.63"
20ft= 1.66"
22ft= 1.8"
24ft= 1.97"
28ft= 2.15"
Flag and pole are sold separately
We have made every effort to make the colors on screen as close as possible to the colors of the products you purchase. However, we cannot guarantee an exact match in colors, and the images and information on this website should not be relied on as such. The representation of colors are limited by technology and may vary due to screen and printer settings.